PHWD Water Quality
The San Francisco Regional Water System (SSFRWS) regularly collects and tests water samples from reservoirs and designated sampling points throughout the sources and the transmission system to ensure the water delivered to you meets or exceeds federal and State drinking water standards. In 2020, SFRWS conducted more than 47,200 drinking water tests in the sources and the transmission system. This is in addition to the extensive treatment process control monitoring performed by SFRWS certified operators and online instruments.


Drinking water, including bottled water, may reasonably be expected to contain at least small amounts of some contaminants. The presence of contaminants does not necessarily indicate that water poses a health risk. In order to ensure that tap water is safe to drink, the United States Environmental Protection Agency (USEPA) and the SWRCB-DDW prescribe regulations that limit the amount of certain contaminants in water provided by public water systems. The U.S. Food and Drug Administration regulations and California law also establish limits for contaminants in bottled water that provide the same protection for public health.
---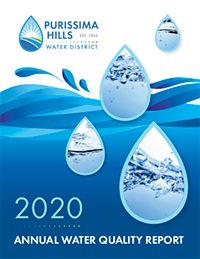 Annual Water Quality Reports
Water quality results are published annually in the PHWD Consumer Confidence Reports (CCRs).
2019 Consumer Confidence Report (Available Soon)
---
Drinking Water Sources and Treatment
San Francisco Regional Water System's (SFRWS) major drinking water supply consists of surface water and groundwater that are well protected and carefully managed by the San Francisco Public Utilities Commission (SFPUC). These sources are diverse in both the origin and the location with the surface water stored in reservoirs located in the Sierra Nevada, Alameda County and San Mateo County, and groundwater stored in a deep aquifer located in the northern part of San Mateo County.
To meet drinking water standards for consumption, all surface water supplies from SFRWS undergo treatment before it is delivered to our customers. Water from the Hetch Hetchy Reservoir is exempt from state and federal filtration requirements but receives the following treatment: ultraviolet light and chlorine disinfection, pH adjustment for optimum corrosion control, fluoridation for dental health protection, and chloramination for maintaining disinfectant residual and minimizing the formation of regulated disinfection byproducts. Water from local Bay Area reservoirs in Alameda County and San Mateo County is delivered to Sunol Valley Water Treatment Plant (SVWTP) and Harry Tracy Water Treatment Plant (HTWTP), respectively, and is treated by filtration, disinfection, fluoridation, optimum corrosion control and taste and odor removal processes. In 2020, a small amount of groundwater from five of the eight recently completed wells was intermittently added to the SFRWS's surface water supply.
---
Taste, Odor, or Discolored Water Issue?
Opening a faucet or two in your home or business, or an outside spigot, to let the water run for a couple of minutes should resolve it. Remember to capture the water in a bucket to use for watering indoor plants or outdoor landscaping!
Depending upon the water turnover in the mainline serving your connection, or seasonal fluctuations in water treatment by San Francisco Water, a temporary water quality issue could be quickly resolved with a mini-flushing of your service line.
You can now use PHWD's Online Water Quality Self-Diagnosis Tool to help determine possible causes and solutions of typical water quality issues experienced in a home. If the problem persists, please contact us at 650-948-1217 or online here.
---
Watersheds Protection
SFRWS conducts watershed sanitary surveys for the Hetch Hetchy source annually and for non-Hetch Hetchy surface water sources every five years. The latest sanitary surveys for the non-Hetch Hetchy watersheds were completed in 2021 for the period of 2016-2020. All these surveys together with our stringent watershed protection management activities were completed with support from partner agencies including National Park Service and US Forest Service. The purposes of the surveys are to evaluate the sanitary conditions and water quality of the watersheds and to review results of watershed management activities conducted in the preceding years. Wildlife, stock, and human activities continue to be the potential contamination sources. You may contact the San Francisco District office of the State Water Resources Control Board's Division of Drinking Water (SWRCB-DDW) at 510-620-3474 for the review of these reports.